We love any excuse to fly here at Sydney Pole and thanks to our huge array of Aerial fitness classes, it's now easier and more fun than ever! From Aerial Hammock, to Silks, Trapeze & Lyra, there are a range of apparatuses that you can try and which can add a unique, fun and challenging element to your fitness training! Plus it gives you a valuable skillset if you ever decide to run off and join the circus.
A
Here are a few reasons why you need to get your beautiful butt into an aerials class, like, now...
A
1. IT'S AN AMAZING UPPER BODY WORKOUT.
A
Lots of students ask about fitness hacks to help improve upper body strength and Aerials are where it's at. Not only do they help develop the muscles needed to work into more advanced pole tricks, but the variety in apparatuses give you an opportunity to experiment with different types of grips.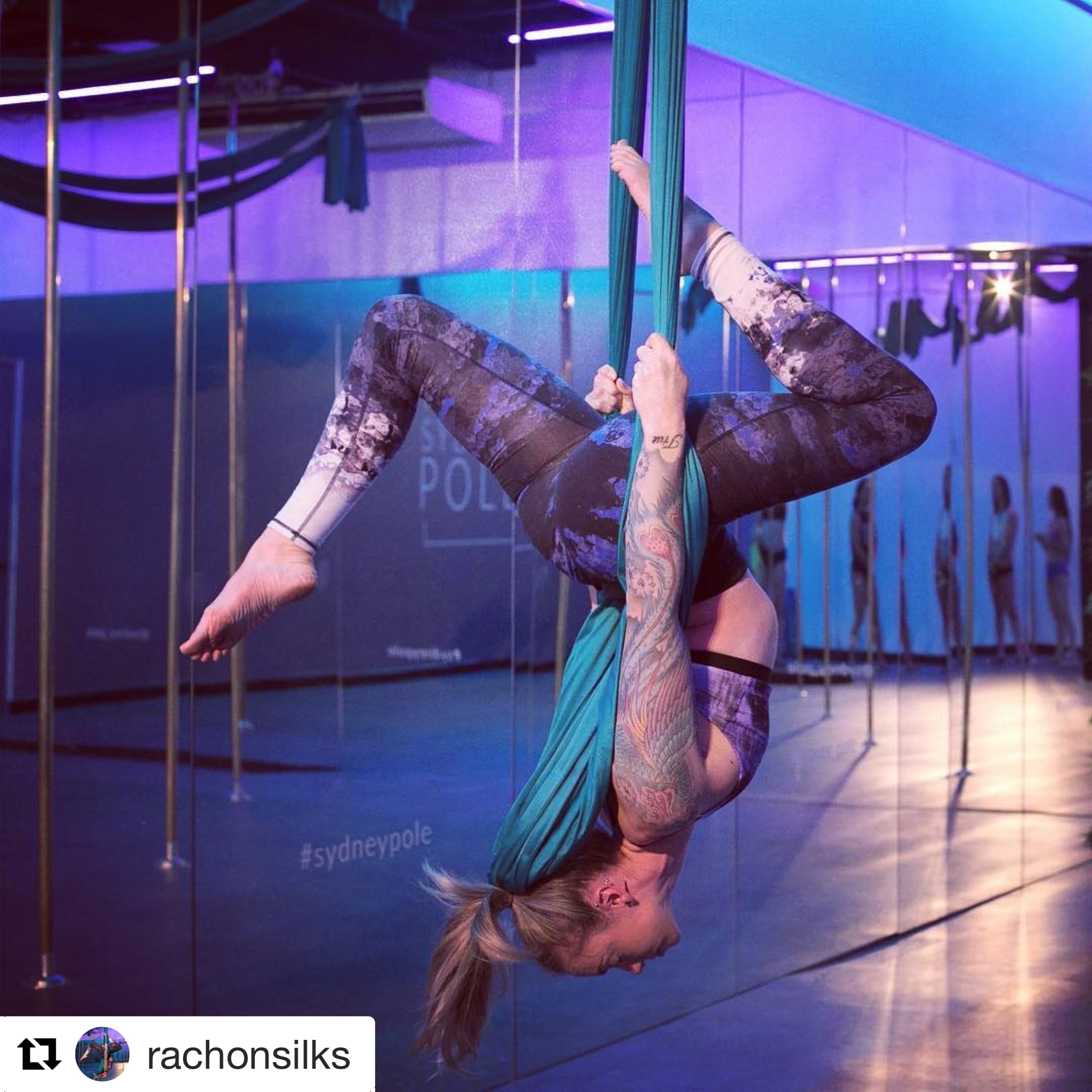 A
2. YOU CAN MAKE PRETTY SHAPES.
A
There are a range of fun and beautiful shapes you can make as your body begins to learn its way around a new apparatus. Leg hangs in aerials can also help develop your pole leg hangs and help condition a range of grips! (And just look at how damn Instagrammable it is!)
A
3. YOU CAN STRETCH AND UNWIND.
A
The antigravity component of aerials gives your body the chance to stretch out and decompress. Feel the lengthening and strengthening benefits when you flip it upside down and let it all hang out. Classes such as Aerial Yoga and Aerial Flex are perfect if you're looking for something a little less strength-based and more relaxing and restorative.
A
4. YOU'LL LEARN TO PUSH YOUR BODY TO NEW LIMITS
A
Learn to trust in your body as you give your weight over to new and different apparatuses and play with hangs and shapes. Develop your flexibility and strength and push your body to new limits by smashing out fun and fantastic tricks you never thought were possible (for a non-circus performer).
A
5. IT HELPS IMPROVE FLEXIBILITY AND MOBILITY
A
Your flexibility gets the chance to develop as you learn to train moves that require an increased range of movement. You can also improve your mobility with deep-tissue massage-like grips as your apparatuses work into different parts of the body and can help release built-up toxins.
A
6. IT LETS YOU MIX UP YOUR FITNESS ROUTINE.
A
Our bodies have an amazing ability to adapt and adjust to routine - it's helpful when it comes to preserving energy but isn't so great when you want to challenge your body and increase strength and flexibility. If you feel like your body is getting used to the same old fitness routine, why not inject some aerials training in to push yourself in new ways? It's great for your brain to learn something new too!

A
7. YOU CAN DO IT WITH YOUR CLOTHES ON!
A
If the prospect of stripping down to your pole shorts gives you the chills this winter, never fear! In aerials you can do everything with your clothes on. In fact, leggings and long sleeved shirts are recommended as they help reduce chaffing under the knees and armpits. So it's a great excuse to crack out those cute leggings!
A
8. YOU CAN LEVEL UP
A
Done one level of Aerials and hungry for more? Fortunately we have various levels of aerials ranging from Beginners (if you've never tried Aerials ) to Intermediate and Advanced! The levels are easy to follow - Beginners is suitable for all levels, and as the numbers increase, so does the difficulty of the classes! It means there is always something new to learn and fresh challenges to work towards!
Keen to try an Aerials class? You can trial your first class with us for free at any of our locations (Camperdown, Parramatta or Penrith). Click here to book your spot.