Pole Dancing. It's amazing. But it can also mean ugly bruises, slippery sweaty hands, dry skin and stinky stilettos. *sigh* The things we do for love. Fortunately, there are some super easy health & beauty pole hacks that our Sydney Pole instructors swear by to keep them pole fit and grip ready!

UP YOUR GRIP GAME


We have probably been introduced to the wonders of grip aids, like Dry Hands but there are other handy tricks to keep yourself nice and sticky when prepping for a pole sesh. Regular shaving foam & shaving gel work wonders when needing to get a little extra tack on the insides of your knees and thighs for tricky grips. Shaving gel gets pretty tacky straight way and is a great winter grip aid, but foam requires you to layer up a few times over to get to that sticky stage. With foam being a little less thick it's better for summer as it wont get super slippery as you sweat.

REMEMBER: When grabbing Shaving Foam or Gels be sure to avoid any that have oils added in. They're great for when you're actually shaving, not so good for enhancing grip.

GIVE THOSE BRUISES A TOUCH UP


Feeling like you need to avoid your pole class if you've got a fancy event coming up where you're showing your legs off? As much as we love our bruises as a mark of our pole accomplishments, sometimes we'd prefer our legs to not look like we've falling down a steep ravine. Luckily, a bottle of instant tan does wonders in evening out skin tone on the legs and having you looking lush in no time. The make-up artists for the wrestling wonder women off Netflix's GLOW swear by Sally Hansen's Airbrush Legs which you can grab here for only $27.

TRIM THOSE FLAPS


Don't you hate it when you buy new Pleasers and the rubber sole starts peeling off and wont glue back on properly again? If you trim the front flap of your sole so the black grip lies flush with the platform, you'll find your sole will stay secured to your shoe for much longer. If you do a lot of Sexy Floorwork or Exotic Pole classes (basically anything where you're dragging the tips of your shoes along the floor) you might even want to cut the whole front third section of the rubber sole off completely - don't worry, it wont affect how you walk or balance!

BE READY TO COMBAT DISTRACTIONS
Sometimes it's the little things that really become a pain when we're poling. Always have a hair elastic in close reach as there can be moves that risk pulling your hair out or it getting all over your face. And having a small gym towel or microfibre cloth handy is always a good idea as it will allow you to de-sweat hygienically and not start transferring oils from your face and hair onto your hands and then onto the pole! Which is a recipe for a slippery time. No thanks.

UNDIE-NIABLE


What undies we wear while working out matters! Seamless, moisture-wicking g-strings underneath your pole shorts eliminate seam lines underneath your pole shorts, and also absorb sweat or moisture during the course of your work out. Cotton On Body have some available here. If you ever feel a little nervous poling on your period or are a little concerned about leakage when you're doing a rigorous workout, there are some awesome high absorbency, leak-proof undies on the market which look pretty stylish and let you workout without downstairs anxiety! Brands like ModiBodi and Thinx are worth a lookup.


SMOOTH YOUR SKIN OUT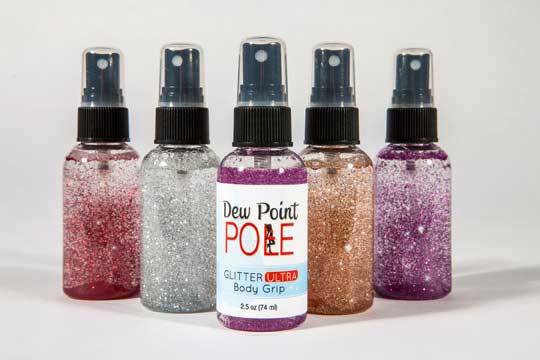 When we tell you to avoid moisturising, we only mean before your pole class! It's so important to regularly exfoliate and moisturise your skin as crusty, dry skin is not ideal for your pole practice. Heel balm can be a lifesaver for your most punished skin patches (particularly fronts and backs of knees, tops of your feet, armpits, etc). You can pop some on before bed and sleep with it on overnight. Dew Point spray is also a pole- specific product that many pole dancers swear by. It works as both a moisturiser and grip-aid (go figure!) and you can pop it on 8hrs or 8min before a pole class and you'll always be ready to pole without worry.

DE-STINK YOUR STUFF
Wash your pole gear regularly to keep it free of sweat and stinkiness! Try to air out your Pleasers, knee pads and gloves (inside-out) after every training session. You can also lightly spray your products with Eucalyptus, Tea Tree or Peppermint oil-blend to prevent icky odours.

What are your secret pole health & beauty hacks?

Special thanks to our amazing instructors Cynthia, Oryx and Bailey for the rad tips!