Lorna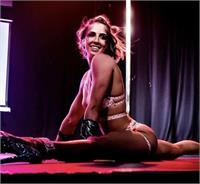 Lorna has been pole dancing for three years, and teaching for nearly two years. She has a bachelor of Chiropractic Science and is currently studying her masters, which she feels helps her greatly in pole and stretching techniques, and injury prevention.
Lorna loves performing, but most of all she loves seeing her students thrive and achieve their goals!
Lorna instructs the following:
You will need to be confident with your extended butterfly, aerial straddle and shoulder mount.

Key moves worked on in Technique 5 include your ayesha, aerial shoulder mount, jade split and brass monkey, as well as a variety of more advanced pole combinations.

We recommend adding at least one conditioning and one flexibility class per week into your training schedule at Technique 5 level, in order to ensure your body is appropriately conditioned and prepared for advanced pole.




You will need to have completed Technique 4 to commence Dance 5. It is important that you feel confident with your extended butterfly, aerial straddle and shoulder mount before commencing Dance 5.

We recommend doing Technique 5 and Dance 5 in the same term. In Dance 5 you will learn a dance routine over 10 weeks. The routine uses moves from the Technique 5 syllabus, so it's important to do Dance 5 in conjunction with Technique 5.

Our Dance classes are a great way to increase your stamina, as well as making everything look more fluid on and around the pole.


We'll be dancing to 'We Will Rock You & We Are The Champions'.

WATCH THE ROUTINE HERE: https://vimeo.com/202708154




Come play upside down for a fun & unique acrobatic workout! This class will take you through handstand drills & exercises in order to improve your handstand technique.

There will also be new & fun acro moves to work on each week, including cartwheels, round-offs, handsprings and partner balances! Whether you're totally new to handstands & acro, or have experience, each section can be tailored to your abilities.

THIS CLASS IS OPEN TO ALL LEVELS.

WHAT TO WEAR: Regular activewear is perfect for this class!

Check out our range of classes here: http://sydneypole.com/class-types




This class is for anyone who wants to improve their flexibility on and off the pole. Flexibility & Toning will work on your whole body flexibility and increase your strength. You will then be able to apply your flexy gains & strength directly to your pole-work!

If you aren't flexible at all, that's ok! This is exactly what this class is there for. If you're super flexible, we provide variations to make it harder for you.

This is a really great addition to your weekly fitness routine, you'll notice a big improvement with your fitness gains.

WHAT TO WEAR: Socks, leggings, leg warmers or knee pads are a great idea to cover your knees for floor-based stretches.

WATCH FLEXIBILITY & TONING HERE:

Check out our range of classes here: http://sydneypole.com/class-types




Do you feel like you're stagnant in Tech 4? Have you mastered those prerequisites but feel a little overwhelmed in a Tech 5 class? Welcome to PREP TECH 5, where you'll be introduced to Tech 5 content at a manageable pace, as well as building on moves you've mastered from Tech 4.