Karly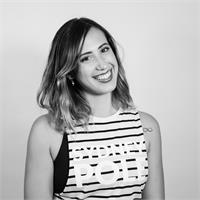 Karly's dirty little secret is that she actually hates "exercising"! The idea of slogging it out at the gym sends shivers up her spine, which is why she started pole dancing. She loves that coming to the studio never feels like exercise - it feels fun. It's just a side bonus that you get fit, toned and gain tons of strength! She's loves performing and enjoys the versatility of pole - sometimes it's donning heels and putting on some sexy music, and sometimes it's dorky dancing!
Karly instructs the following:
Are you ready to commit to your Splits?

Splits are always on the 'Goals' list for many pole dancers - so why not take part in our Splits Challenge and really commit to getting those splits?

You will learn techniques to develop your front, middle and straddle splits, and will document your progress over the term.

WHAT TO WEAR: Leggings, knee pads or leg warmers are advised to protect your knees. Socks are also useful to help you smoothly slide out into your splits.

Check out our range of classes here: http://sydneypole.com/class-types




You will need to be confident in your straddle on both sides, advanced jamilla, straight leg hang back, outside leg hang, inside leg hang & butterfly.

Core moves learned in Technique 4 include the extended butterfly, aerial straddle and shoulder mount.

Welcome to bruise territory! This is where we learn to really support our bodyweight in addition to some more difficult (and impressive) spins and inverted combos.




You will need to have completed Technique 4 to commence Dance 5. It is important that you feel confident with your extended butterfly, aerial straddle and shoulder mount before commencing Dance 5.

We recommend doing Technique 5 and Dance 5 in the same term. In Dance 5 you will learn a dance routine over 10 weeks. The routine uses moves from the Technique 5 syllabus, so it's important to do Dance 5 in conjunction with Technique 5.

Our Dance classes are a great way to increase your stamina, as well as making everything look more fluid on and around the pole.


We'll be dancing to 'We Will Rock You & We Are The Champions'.

WATCH THE ROUTINE HERE: https://vimeo.com/202708154




BRAND NEW CLASS WITH THE ONE & ONLY CYNTHIA!!!

Learn the foundations of Static Pole with grounded spins and transitions. In each class we work on skills in the first half and in the second half of class incorporate those skills into a mini routine. Week to week we will work on a new mini routine so this class is perfect to drop in to at any time.

More challenging skills elements will be provided to more advanced students to ensure you never get bored.

Open to Technique 2 and above.




Our famous SP BARRE workout is packed into a special Brunch Fit 45 minute express class. Based on ballet & pilates principles, you're guaranteed to get a great workout to achieve a full-body tone!

Open to all levels, no prior experience required.

WHAT TO WEAR: Regular activewear is perfect for this class! Class is done in bare feet. Be prepared to sweat!




Our Aerial Yoga class is a low-impact, full-body workout designed to get you centred and aligned. This class is a fusion of yoga flow and pilates, using the silk hammock to achieve supported poses and weightlessness.

Open to all levels, no prior experience required.

WHAT TO WEAR: Please wear clean socks, leggings & a top that covers your armpits (long sleeves or t-shirt). No zips or jewellery please!